This week we need you to make some crafty Pentecost items, and take pictures and videos of the finished pieces of craft. There is even a Pentecost Young Church song included and if you want please sing it to us with your crafts.
Wind Twirlers from Fun Foam or card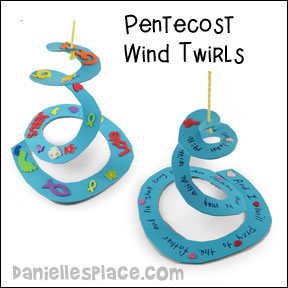 What you will need:
Cut a piece of craft foam or card in a circle then cut around in a spiral until you get to the middle of the circle.
Decorate the spiral with fun foam shapes and markers.
Hang it up with a piece of yarn. This craft will remind your children that the Holy Spirit is present even though we can't see it.
Pentecost young church Song
Wind and Fire
Written by Carolyn Warvel
(Sing to the tune of Frère Jacques)
Tongues of fire,
Tongues of fire,
Mighty wind,
Mighty wind,
The Holy Ghost is coming,
The Holy Ghost is coming,
Praise the Lord!
Praise the Lord!
Pentecost Windmill wheels
(incorporating the wind and fire of the Holy Spirit)
Decorate your sails with images of FLAMES!
On the sails you can think about speaking in tongues, perhaps using the words LOVE, PEACE, HOPE and JOY (please do think about what they mean to us.)
Think of different languages and how your chosen word/words translate in to another Language or tongue. You could think about where you have been on holiday, or a language that a friend or family member speaks.
Headbands with the Flames of the Holy Spirit
What you will need and how to make:
Card to make the head band – measure carefully then cut even more carefully!
Stick together or staple.
Draw your flames and colour the, in with vivid & bright colours
Stick or staple this to the front of the head band
Some help might be needed! Four hands are always better than two!