Welcome to this year's Racial Justice Sunday (RJS) worship, which has the theme: 'Racial Justice Sunday: What's it got to do with me?'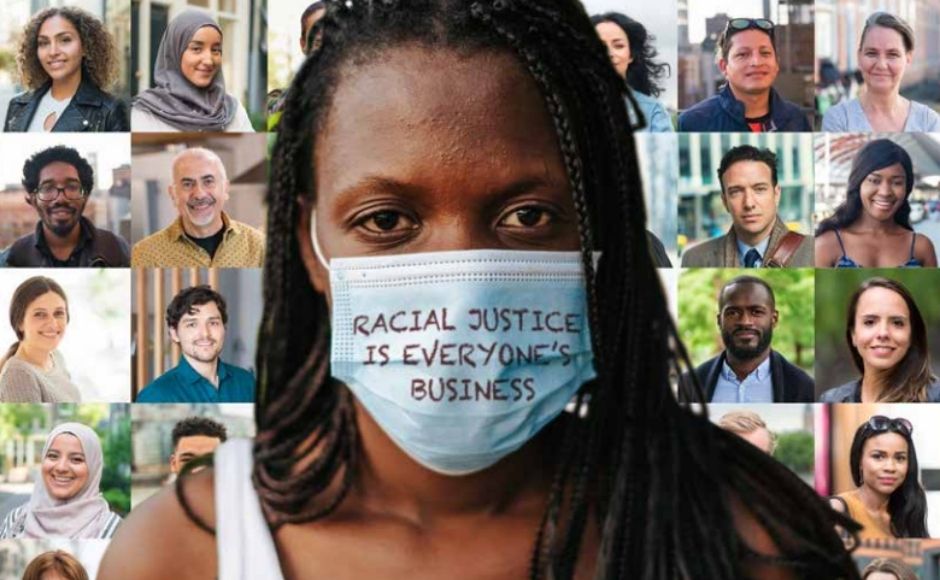 This is very much a call for all Christians to engage in the righteous struggle for racial justice because racial justice is everyone's business. As we shall see in this resource, the Bible has a lot to say about justice because as God's Word, it reflects God's heart for justice. It can be argued that we should love justice because God does! Racism and racial discrimination are justice issues because they deny basic justice and human dignity to women and men who are made in the image of God. Equally, they are sinful because, among other issues, they assume all are not equal before God and are not part of God's family.
The murder of George Floyd in May 2020 has been described as a Kairos moment for the Church, and it led to much soul-searching and a desire on behalf of many to see change. However, some in the Church were left befuddled and struggled to engage with the conversations that emerged from that tragic event, as well as protests and the clamour for real change.
the three 'R's of 'Remembering', 'Reflecting' and 'Responding':
'Remembering' the importance of racial justice
'Reflecting' on human diversity and thanking God for it
'Responding' by working to end injustice, racism and ignorance through prayer and action
Prayer for Justice
Mighty, and everlasting God.
As Your people come into your presence,
We are thankful for your graciousness, your mercy, and your love.
We continue to remember all those adversely affected by the COVID pandemic,
We pray that your Holy Spirit will be present with them,
To comfort and to heal; to sustain and be reconciled, one with another.
On this special day, we remember the family of George Floyd,
We remember all those who are hurting, disadvantaged,
and impacted by racial prejudice.
We also remember all those have suffered at the hands of injustice,
May your Holy Spirit be present with them,
To comfort and to heal; to bring justice and reconciliation,
one with another.
Faithful God, we commit this service into your hands,
We pray for every participant and every listener,
That you will empower them with your strength,
That they might be courageous to say and do what is right and just,
and that your good and glorious, magnificent, and righteous name might be praised,
We pray in the name of your selfless son, Jesus Christ, our Lord.
Amen! Amen! And Amen!
A Responsive Prayer
In the stillness we pray…
Creator God, hear our prayer
Creator God, when the disciples got into their boat, it was dark and Jesus had yet to come to them.
We pray for those who experience the absence of security because your peace has not yet come to them. We remember in our hearts and pray for those whose countries are in the midst of the war, famine, persecution.
In the stillness we pray…
Creator God, hear our prayer
Whilst the disciples were in their boat the sea became rough.
Creator God, we remember and pray for those who are in the midst of national and international storms, and for those in whose hands lie the way that makes justice and peace.
We also pray for those we know whose battle is against personal storms: difficulties, challenges, hurts, confusion and uncertainties which are overwhelming.
Forgive us for our apathy and compliancy. May we who profess to be followers of Christ, willingly do what we can to work towards justice and peace, for people both within and outside of our communities and the country in which we live.
May we too be willing to share in the joys and pains of those here who need us.
In the stillness we pray…
Creator God, hear our prayer
When the disciples saw Jesus walking on the sea, they were afraid. Jesus said, 'It is I. do not be afraid.'
Creator God, we remember and pray for those who live in fear; in fear of abuse; in fear of loneliness; in fear of the future.
And for those of us who live with fear each day.
May we remember the words of Christ – 'It is I, do not be afraid.'
As we begin another day may we keep our hearts and our minds fixed on you and rejoice in you.
In the name of Christ. Amen
"Ever present God,
you called us to be in relationship with one another
and promised to dwell wherever two or three are gathered.
In our community, we are many different people;
we come from many different places, have many different cultures.
Open our hearts that we may be bold
in finding the riches of inclusion and the treasures of diversity among us.
We pray in faith. Amen."
Revd Dr Martin Luther King Jr